We are pleased to announce we've now transformed a neglected area of South Leamington into a colourful 'Pocket Park'!
With a grant from a government scheme to create green spaces in Urban environments, matched with funding from Leamington Town Council and the 'Love Leam' fund – Packington Place has now been transformed.
We engaged the community to clear the existing raised beds and replant the new ones. They worked with 'Positive Signs' mosaic group led by local artist Fran Godwin and Sonia Kwasnik to make the colourful mosaics that decorate the new raised beds. Over 100 mosaic squares were made in workshops throughout April & May by members of the community.
Moda Ceramica in Warwick donated a large amount of the fancy Italian mosaic tiles that are included in the work. Willmott Dixon built the raised beds with bricks donated from their Sayer Court Project on Tachbrook Road. The beds were planted up by volunteers from the local community – including clients from the Way Ahead project at the Salvation Army.
One of our directors, Kristie Naimo said: "This has been a real community project – bringing people together to uplift an otherwise neglected part of South Leamington. We hope that people will take pride in this new space by keeping an eye on it and help to maintain it through occasional volunteer work days."
The current Mayor for Leamington Spa and local Town Councillor Ann Morrison has also been involved! "Everyone who has worked on this should feel proud of this achievement. What is really exciting is that passers-by as well as local residents and shopkeepers are stopping to look, and read the message in the tiles – 'Everything Springs from Nature'. This is encouragement to do more of these, so one of my charities for the year is to raise funds to make the next one."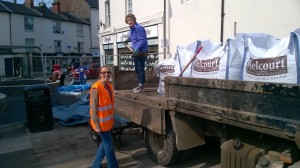 Packington Place Pocket Park is now open to enjoy and will be officially launched by the Mayor on Friday 8th July during the Leamington in Bloom judges visit. A maintenance group will now be formed to look after the park in future.