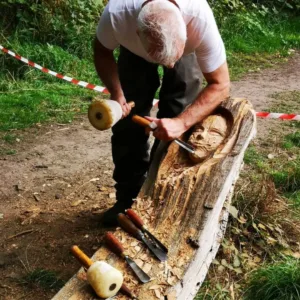 In 2021, ARC were invited by the Friends of Priory Park in Warwick to initiate a nature trail around the park to engage the community in this wonderful green space in Warwick town centre.
With funding from Warwickshire County Council Councillors Fund, and guidance from Warwick District Council's Green Space officers, we commissioned woodcarving expert, Graham Jones, to co-create a number of sculptures out of deadwood in the Park.
The initial wood carving demonstrations took place on two (fortunately) glorious sunny days in November and early December 2021. And Graham return to create further works in 2022.
In creating the pieces, Graham takes creative guidance from the people and places around him – as well as the wood itself. Using a small chainsaw as well as hand tools – the creatures quickly appeared from the woodwork! People were invited to come and watch the demonstrations and give their suggestions.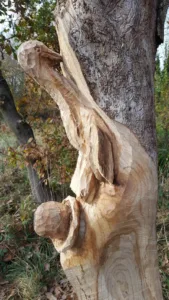 Woodpeckers have often been seen in the oaks along the brook – and therefore a woodpecker design was decided upon for the first Oak tree carving. Along the ridge, nuthatches were spotted the morning of the demonstrations, so were incorporated into the work. Along with a mouse, dragonfly and 'nessie' the dinosaur of Priory Park!
Click here to download a map of the sculpture trail and come to see the work for yourself!