Throughout the past 2 years, we have worked with the local community to plant over 2600 trees in the 'Children's Forest' field at Leasowe Farm, Radford Semele. You can read more about the project and download our interim report here.
We invite everyone to come and celebrate with us on Saturday 8th July 2 til 4pm.
We we hold a celebratory tea party amongst our tree planting and tending achievements over the past two years in the Children's Forest field at Leasowe Farm. There will be games, tea and cakes, refreshments and family fun amongst the trees. All are welcome – with or without children! Bring something to share if you want – but not required!
Access is via the Canalside Community Farm.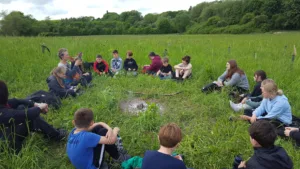 We also invite you to join us for a Tending Day on Saturday 15th July 2 til 4pm.
To keep the trees growing well we will be watering, weeding and re-mulching.
Bring gloves, a wheelbarrow and/or watering can if you have any (otherwise we can provide). Email childrensforest@arccic.co.uk  for more details.