The Hanging Gardens of Lillington has a vision to provide opportunities for young people to participate in creating space for growing, cultivating and eating fresh food.
Since beginning in 2016, the project has run activities during evenings and school holidays for young people to learn and apply a range of practical and character building skills.
This includes construction of planting space, cultivation of edible and decorative plants and cooking. Young people are supported to bring their ideas into reality with the aim of creating a vibrant and productive green space in and around the premises of the youth centre.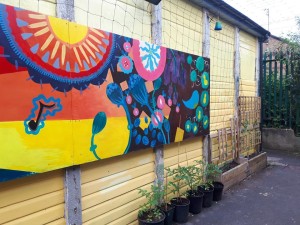 The Courtyard space summer 2018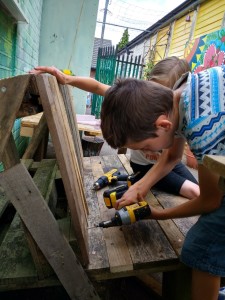 Young people constructing a bench made from pallets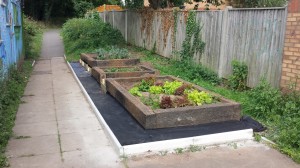 Raised beds outside the Youth Centre
The project has received funding from Tesco Bags of Help, North Leamington Community Forum and Leamington Spa Town Council, to deliver a programme of activities supporting young people's learning and personal development in as many ways as possible.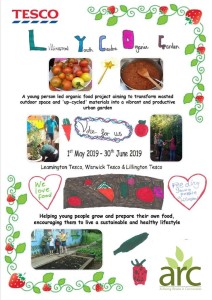 Poster for the Tesco Bags of Help scheme designed by one of the young people
You can vote for the Lillington Youth Club project in Tesco Stores (Lillington, Warwick and Leamington) when you shop there in May and June 2019!
The project aims to be young person-led, with an ethos of using recycled materials to come up with imaginative ways to use the outdoor space effectively.
The Hanging Gardens of Lillington has benefited from graffiti arts project run by Brink. The project seeks ongoing financial support from local and regional donors to maintain its programme of activities each year.
About Lillington Youth Centre
Lillington Youth Centre was built in the 1960's and has worked with 1000s of young people since it opened.
Part of Warwickshire County Council's Targeted Youth Support (TYS), it is the only local authority maintained Youth Centre in the south of the county offering open access evening youth clubs.