Project update Summer 2021:
After closing its doors in March 2020, Lillington Youth Centre had not been open to young people for the entire duration of the Covid-19 pandemic and subsequent restrictions.
Finally, at the beginning of the summer holidays 2021 the centre reopened offering limited provision to young people in the Lillington Community for three weeks between July 26th and August 12th.
Provision was limited to outdoor activity only, delivered at the front of centre, in the sports court and in the garden. All the gardening activities were provided by ARC CIC engaging with ages from 8 – 17 years in a range of activity related to food. This consisted mainly of watering plants, carpentry skills to improve planters and trellis, picking fruits and some limited food preparation to treat the youth club.
The sessions were attended by 14 young people in total over the three weeks, many getting involved every day.
The gardening sessions will  resume on Monday evenings week commencing 13 September until the October half term.
Thanks to Outdoor Education lead Matt Cox for facilitating these sessions for ARC.
Attaching trellis to the pergola to train the grape vine across: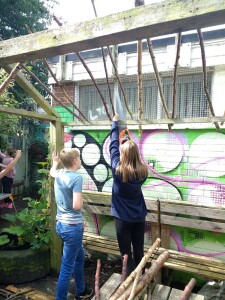 Making a Rhubarb and Blackberry crumble collected from the Garden: