ARC is celebrating a three-year, £83 753 funding award from the National Lottery for our Wellbeing in Nature services.
ARC deliver regular, weekly outdoor wellbeing sessions in Leamington and Warwick, as well as intensive adult wellbeing courses in Radford Semele and Youth Mentoring in Nature programmes to support school children with challenging behaviours. The new funding – together with match funding from other sources – ensures ARC will continue to deliver all these services.
"We are very pleased to have received this three year funding," says Kath Pasteur, ARC Director and session facilitator. "Post Covid, there is much need for support for people's mental and physical health and wellbeing. We have seen a rise in demand over the past twelve months, and it's great to be able to continue reaching those people who are struggling."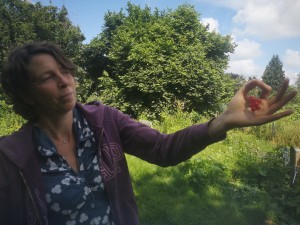 Wellbeing in Nature groups welcome new participants
Members of the public struggling with mental or physical health or feeling isolated are invited to join ARC's Warwick and Leamington wellbeing sessions. The Warwick group, currently funded by Warwickshire County Council's Mental Wellbeing and Resilience Fund, meets every Thursday morning (10 til 12) at the Packmores Community Garden close to Priory Park and the town centre. The relaxing, friendly sessions involve mindfulness, gardening, crafts and socialising with others in the group. A second group meets on Tuesdays at Foundry Wood in Leamington, offering similar activities.  All groups are free to attend.
As one Warwick participant has reported: "I am grateful for this group, and that I can come to it every week. There's so much going on in my life at the moment, but coming here is a break from all of that and makes me feel so much better. I really need this. It's something positive in my week that I look forward to."
Another participant has felt the benefit during this difficult time: "This has been great for socialising. Given the pandemic, a lot of people are talking about social anxiety and this has helped ready me for socialising again"
Please visit our Wellbeing page or contact kristie@arccic.co.uk to find out more.
We are grateful to our funders: National Lottery and Warwickshire County Council