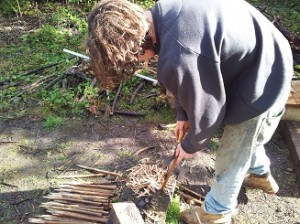 No, we are not sharpening wooden stakes in preparation for vampire hunting this month – these stakes are the pegs for the Outdoor Classroom Building!
  
With an enthusiastic team of volunteers, on Sunday we erected the first frame of our Outdoor Classroom. It was very satisfying to see this going up – especially after all the hard work preparing the wood and making pegs.
The sun shone again for us and even bought out some young volunteers – here they are planting some bluebell bulbs. Looking forward to the flowers come up in Spring!
It's been a busy week at the Woodland with Monday also seeing two teams from the Mid Counties Coop on site carrying on the path edging and shaping the pond. This work will continue on Thursday 18th Oct. Anyone is welcome to attend – meet at Victoria Carpark at 9:30am.
The next weekend work party is planned for Saturday 10th November when we'll be putting the pond liner down as well as other tasks on site. Keep on eye on the website calendar for details and new dates!