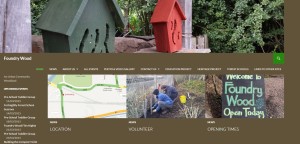 The site makes it easier to see the upcoming events at a glance – with the same simple click-through to all the details.
You can read about forest schools, the education and heritage projects, and view images of past events and activities on the photo and video gallery.
Find out about upcoming events, see the map of where we are, and opening times from the home page.
Give us your feedback by sending us a comment, and encourage your friends to sign up for this newsletter and volunteer.
ARC continues to work in partnership with the Friends of Foundry Wood to manage the overseeing of the woodland however most events Foundry Wood Events will now be published on the new website