We are pleased to announce we will be delivering another 8 week Tallis Woodland Wellbeing course starting on 11th November 2020.
Do you live in Lillington, Cubbington or rural areas East of Leamington?
Are you struggling with your mental health or feeling lonely?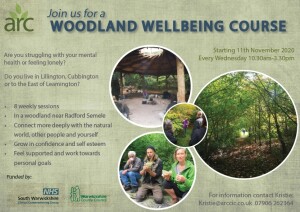 Join us outdoors for a Woodland Wellbeing course of 8 weekly sessions held at a woodland just outside the village Radford Semele.
Sessions aim to help you to:
Connect more deeply with the natural world, other people and yourself
Grow in confidence and self esteem
Feel supported and work towards personal goals
Course dates: Starts on 11th November and runs for 8 weeks on a Wednesday10:30am – 3:30pm
A Covid19 secure risk assessment has been conducted to ensure sessions can run as safely as possible.
For further information or to sign up contact Kristie:    kristie@arccic.co.uk  07906 262364
We are grateful to our Funders: