ARC (Achieving Results in Communities) are pleased to announce we have partnered with Leamington's Parish Church (All Saints')  to transform the old churchyard into a haven for reflection, wellbeing and wildlife in the centre of the town.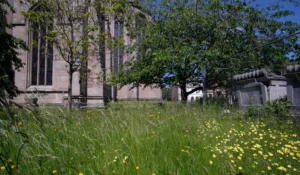 We will be engaging community members to help transform the grassy area south of the church into a welcoming space for contemplation in nature. This is a second phase of work, a wildflower area already having been created in the enclosed area to the east of the church.
The project will be launched at Art in the Park with an information stall where people can find out more and sign up for gardening sessions and regular information updates.
Starting on 11th August ARC will run free weekly sessions from 10am til 12noon each Friday, with a focus on gardening for wellbeing and wildlife. Participants will be invited to share their ideas of the  the design and get involved in planting and maintenance of the space, habitat creation and nature based crafts. There will be time to relax and chat with light refreshments provided.
"We are hugely excited to be partnering with All Saints' Church to deliver this initiative" said Kath Pasteur, Director of ARC. "The former churchyard at All Saints' Church is in need of regeneration. Our experience shows that spending time outdoors contributing positively to our local environment has a wide range of health and wellbeing benefits for people. This alliance will result in an inspiring, creative and relaxing space where nature and people can thrive alongside one another."
The initial work is funded by Warwick District Council and planting will focus on enhancing biodiversity, with trees and shrubs alongside a seasonally changing spectacle of perennial flowers. No gardening skills will be required by those wishing to get involved and all tools will be provided.
Fr Christopher Wilson, Vicar of All Saints, expressed great joy in the formation of the partnership. "We can now see our vision of creating a restful, beautiful space for our whole community being delivered, supported by ARC's tremendous knowledge, expertise and outreach experience"
As well as an opportunity for community engagement and participation, future plans forsee the installation of a labyrinth in the garden as well as creating a space for artistic, cultural and community events for the benefit of people living in the town.
For details or to get involved contact: Kath Pasteur, info@arccic.co.uk / 07814 605 245