We are pleased to announce the next 8 week woodland wellbeing course will start on Weds 21st April.

These courses are designed to support people to improve wellbeing through connection with nature as well as strengthening connections to the the wider community, e.g. via volunteering, training or finding work.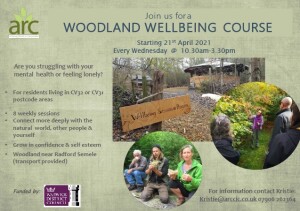 All sessions take place in a Covid-safe environement. See photos below from recent courses: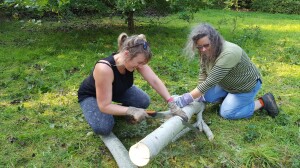 Some feedback  from recent course participants:
I always felt better after every session. I feel better now than I did at the beginning of the course – mentally and physically.
It has kept me focused and feeling part of something, allowing me to feel connected to others and to myself, which has meant that I've experienced a lot less day-to-day distress, loneliness than I usually experience
Being stuck at home it's not always easy to express yourself – here I can
Groups talks and walks were very useful in gaining confidence and hearing other people's stories. I felt accepted and nurtured, heart warming food eaten with a group affects my cooking at home too.
My mental health has improved 10fold relaxed and I feel like a normal human being
Tallis Wood is just outside Radford Semele, near Leamington. Transport from Leamington can be provided if required. Sessions take place over a full day (10:30am – 3:30pm) and vegetarian lunch is provided. Participants should aim to complete the full 8 weeks.
We are initially accepting participants from CV32 and CV31 postcode areas.
Places are strictly limited so get in touch with Kristie on 07906 262364 / kristie@arccic.co.uk
We are grateful for funding from the North Leamington Community Forum Planning Group