Residents at Foundry Wood were shocked yesterday to discover a new housing development underway. Despite being a designated community space, a hotel and a range of mixed occupancy dwellings have been built!
The residents in question are insects and birds and the developers are a team of 60 young people from around the county, as part of The Challenge Project!
Insects looking for a place to stay over the winter now have a new multi-storey 'Bug Hotel' – complete with comfortable compartments made from recycled pallets, bricks, tiles, old carpet and twigs.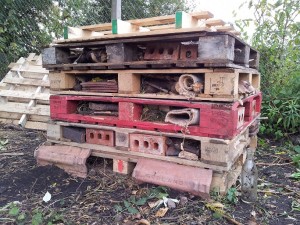 Bird Boxes were also created by the team with welcoming messages.  One volunteer explained: 'We wrote 'hello' inside to welcome birds to their new home, but then realised we should consider migrating birds as well – so extended the invitation into other languages'.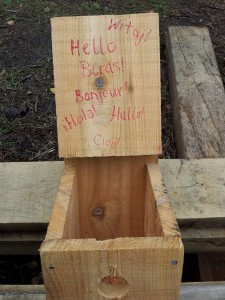 A spokes 'person' for the wildlife commented: 'Humans making something for us instead of taking it down! I'm in shock – but delighted! We can't wait to settle into our new homes'.
Foundry Wood aims to promote wildlife and education so this activity was an ideal way to achieve both. Approximately 60 young people volunteered on this day and they also planted bulbs, cleared brambles and helped to tidy the site.
If you would like to get involved at Foundry Wood, come along to the next work party on Sunday 14th October. Activities will include planting as well as seed collecting as part of the Tree Council's Seed Collecting Season