Following the Foundry Wood AGM on April 5th, we will be holding our first "Gig in the Woods" featuring the spectacular Eleanor Brown.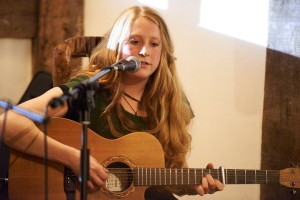 Eleanor Brown is an acoustic/folk singer/songwriter who has recently recorded her first studio album SPIRALS. Her beautiful songs, sometimes haunting, sometimes uplifting, all come straight from the heart. With community building and celebrating nature as core themes in many of her songs, Ellie is the perfect artist for the first Gig in the Woods at our community woodland. She will be launching her new album, so bring along a spare tenner so you can take a copy home. Check out her website for a preview of her music
The lineup for the evening is as follows:
Foundry Wood AGM from 5pm
Bring and share food around the fire from 6pm.
Matt Hernandez with passionate Flamenco tunes from 6.30
***Eleanor Brown will play from around 7pm***
Fireside folk session led by the Canalside Ceilidh Collective til late.
Baked potatoes and soft drinks provided. Bring further food and drinks to share.
This event is free, but donations to the musicians are welcome.