Positive Signs Mosaics working with community group ARC CIC will be at the Band Factory to create mosaics to decorate the new raised beds at Packington Place.
Come and join us to design and make the mosaics between 11am and 1pm on the following dates:
Saturday 16th, Tuesday 19th, Thursday 21st, Friday 22nd, Tuesday 26th & Thursday 28th April
The workshops are open to young people (12 and over, accompanied by an adult) as well as adults. No prior experience necessary.
*Please be aware that mosaic is very sharp – full safety instructions will be provided.
Here are some of the mosaics we've made already. There is a bit of a floral/natural theme. The proposed design is to have the words: "Everything Springs from Nature" around one of the circular raised beds.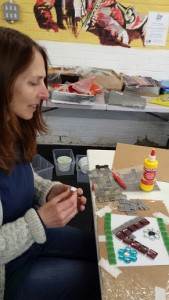 Get involved!
This is your Pocket Park! We will need
volunteers
to assist with some of the physical work – ie removing the current plants and
replanting
the new ones,
making the mosaics
in workhops and generally helping to spread the word. Currently we don't have a social media presence for the pocket park account  – would you like to help with this?In the long term we hope local residents and business will
keep an eye
on the park and
maintain
it on behalf of the community.Further dates for volunteer days coming soon including:
– gardening days to plant new plants
– mosaic workshops with local artists
Please email us if you have any further suggestions