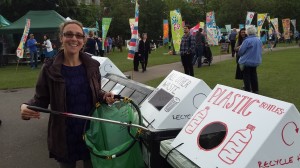 From 2012 – 2019 ARC CIC provided a Recycling and Litterpicking service at events around Leamington and Warwick. Our team of volunteers work on site throughout the event to ensure all rubbish is collected, separated and recycled. This service is provided in partnership with Warwick District Council.
In 2012 we saved 2247kg of recyclables from landfill at the Warwick Folk Festival. Read all about it here.
During 2013 ARC CIC once again provided the Recycling service at the Leamington Peace Festival in June, the Warwick Folk Festival in July (1.34 tonnes of recyclable materials collected) and Leamington Food and Drink Festival (1.6tonnes collected).
The Warwick Folk Festival continues to increase the amount of recycled waste each year – with 1.44 tonnes collected in 2014 and 1.775 tonnes in 2015.
In 2017 we collected a record amount  of recycling at Warwick Folk Festival!
Card 750 kg
Glass 1.050 kg
Cans 1.050 kg
Plastic 200 kg
Thank you to all the volunteers who helped at these events.
We no longer provide a recycling service at events