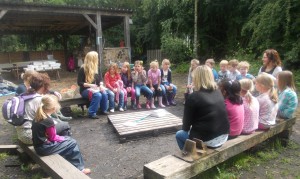 We've had a very successful year at Foundry Wood delivering our Education Project.
Approximately 35 school & after school groups (scouts, guides, etc) visited the woodland between March – October 2014 which has kept our Education Officer Rachel and the volunteers very busy!
Children of all ages have taken part in a variety of craft and curriculum visits which have included activities such as weaving, cooking on a fire, mini-beasts, habitats, storytelling, natural paints, pizza making and much more!
During 2014 the visits were made possible by a Heritage Lottery grant and this has also helped us develop and create Education packs linked with History, Science, Maths and Literacy with some useful resources to get the most out of your visit to the woodland. These packs will be available to schools and groups from January 2015.
If you'd like more information about bringing your class or group to Foundry Wood in the future, please get in touch via admin@arccic.co.uk