Due to the current Covid 19 Coronavirus epidemic we have not been holding Ecotherapy sessions at Foundry Wood.  Foundry Wood itself is also closed.
BUT we are running online sessions via our Ecotherapy@FoundryWood Facebook group every Tuesday and keeping in touch via our Ecotherapy Friends WhatsApp group.
We continue to run activities based on the Five Ways to Wellbeing and sessions have included mindfulness, origami making, haiku writing, seed planting, dancing, body percussion, nature meditations and more!
Stay Connected
Join our private Ecotherapy Facebook group www.facebook.com/groups/466596320198354
Join our Ecotherapy Friends WhatsApp group by emailing Kath Pasteur with your phone number (kath@arccic.co.uk) or texting Kath on 07814 605245 with your name (including surname).
We also send a weekly newsletter you can sign up to by contacting Kath.
Feel free to share this message and details of our sessions with friends or family who you think might benefit from it during Lockdown, and especially if you think they might come up to our sessions at Foundry Wood when we are allowed there again. We want to the group to remain personal but also want to support as many people as possible at this difficult time.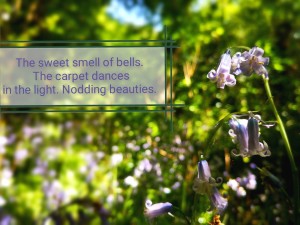 A Haiku written by volunteer Lucie Titchmarsh