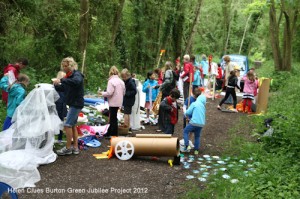 Title: Clay Sculpture
Date: Sat 27th July and Weds 21st August
Location: Foundry Wood – meet on site
Link out: Click here
Description: Imagine a miniature world and recreate it using clay, recycled and wonderful found materials which we will collect from the woodland. At the end of the session you will have created a wonderful miniature world to take home. A chance to use your imagination and explore materials. For adults and children cost – £4 each.Booking essential as places limited.
Contact Helen h.clues@btinternet.com
Time: 11:00 –  15:00
Craft Workshops Week!
A busy, crafty week at Foundry Wood coming up….
Monday 22nd July – Leaf Print Making workshop 11am – 3pm – £5 pp
Wednesday 24th July – Make your own dream catcher 11am – 3pm – £5pp
Saturday 27th July – Create a miniature world using clay, recycled and found materials 11am – 3pm £4pp