Ten years of Achieving Results in the Community
ARC is very pleased to be celebrating ten years of helping people and nature in Leamington Spa and the surrounding area.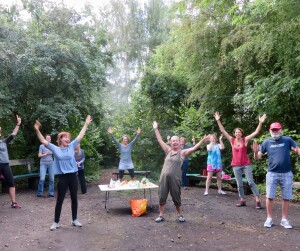 Established in 2011 by Rick Smith and Kristie Naimo, ARC delivers local projects promoting environmental sustainability and helping to improve mental health and wellbeing. ARC is best known for the Foundry Wood community woodland, reclaimed from derelict land on the site of the old Ford foundry and now a flourishing nature reserve hosting children's activities, outdoor performances and 'ecotherapy' sessions.
Other projects have included transforming the New Street burial ground and creating the Packington Place pocket park in South Leamington. ARC has also brought a number of community gardens across Leamington and Warwick back to life, as well as running woodland wellbeing sessions near Radford Semele.
"We're a small organisation, but in the last ten years we have achieved a huge amount and delivered much needed support within the district," says Kristie Naimo, ARC's co-founder and director. "Connecting people with nature is more important than ever, especially during the Covid pandemic. ARC's success lies in its community roots – we are blessed with a fantastic team of volunteers who help support our work and we are always looking for people to join us, especially our board of directors."
Together with fellow directors Kath Pasteur and Teresa Johnson, ARC continues to transform neglected and under-utilised green spaces. In recent years the group has evolved to deliver a range of outdoor mental health sessions tailored to meet the needs of specific groups, across three locations in Warwick District.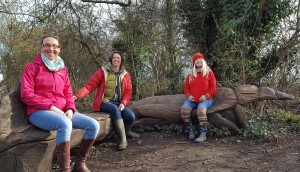 Directors – Kristie Naimo, Kath Pasteur and Teresa Johnston
"We are especially pleased that we've been able to continue providing support even during lockdown," says Kath Pasteur. "For many participants, getting out into nature once a week makes a huge difference. Even when we couldn't meet in person, we continued our sessions online. ARC is meeting a clear need in the community."
As one participant in the Ecotherapy group at Foundry Wood noted, "Meeting with like-minded people in such a health-giving environment has dramatically reduced my anxiety, and the personal interaction has given fresh purpose to my life". The Ecotherapy team was also recently shortlisted as best community group for Matt Western MP's Community Awards.
"It's a shame that due to the current restrictions, we can't held a celebration to mark our tenth anniversary in style," says Kristie. "But we will continue to work supporting local communities during lockdown – and hopefully for many more years to come."
For more information or to get involved visit www.arccic.co.uk/wellbeing or facebook/arccic.co.uk