ARC CIC  recently received some funds from North and South Leamington Community Forums to go towards building an Outdoor Classroom on site.
As well as providing some shelter, the simple timber framed structure will be able to host environmental education activities to help people engage with the outdoors including youth activities such as forest schools or general outdoor learning.
In the long term we also hope that the classroom could be used for other outdoor community events such as theatre or storytelling.
The building of the Classroom is being assisted by volunteers from locally based PR company – Millward Brown – as well as local residents and other members of the public.
We welcome anyone who would to come along and help out.
Please get in touch to learn more or get involved. Work dates for building the Classroom are Thurs 6th, Tues 11th and Tues 18th Sept.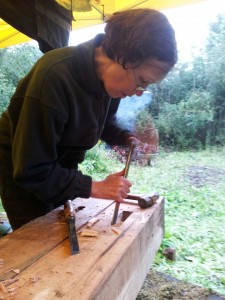 Picture above: Cutting out mortises